Free Book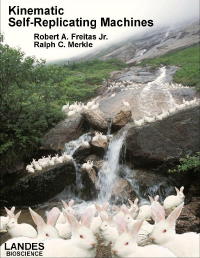 One of the key concepts of interest to those who are observing the hyperbolic exponential acceleration of technology is the concept of a
von Neumann universal constructor
. At the time
John von Neumann
's ideas were completely theoretical. However, as our technologies become more and more powerful we are beginning to make real progress toward attaining this ideal.
Recently a text was published called "Kinematic Self-Replicating Machines" which deals with this subject comprehensively. I have not yet read the book but I understand that it is very thorough. Check it out for yourself -
the book is now online for free
.
4 Comments:
China Wholesale has been described as the world's factory. This phenomenom is typified by the rise ofbusiness. Incredible range of products available with China Wholesalers "Low Price and High Quality" not only reaches directly to their target clients worldwide but also ensures that wholesale from china from China means margins you cannot find elsewhere and buy products wholesaleChina Wholesale will skyroket your profits.wedding dressescheap naruto cosplayanime cosplay
By

Anonymous, at 18/8/09 21:53
Women's nike tn Shox Rivalry est le modèle féminin le plus tendance de baskets pour le sport. tn chaussuresConcernant la semelle :spyder jacketsCheap Brand Jeans Shop - True Religion Jeans nike shoes & Puma Shoes Online- tn nike,Diesel Jeans le caoutchouc extérieur, l'EVA intermédiaire Levis Jeanset le textile intérieur s'associent pour attribuer à la.ed hardy shirts pretty fitCharlestoncheap columbia jackets. turned a pair of double plays to do the trick.Lacoste Polo Shirts, puma basket, Burberry Polo Shirts.wholesale Lacoste polo shirts and cheap polo shirtswith great price.Thank you so much!!cheap polo shirts men'ssweate,gillette mach3 razor bladesfor men.As for Cheap Evisu JeansCheap Armani Jeanspolo shirtsPuma shoes
By

Anonymous, at 18/8/09 21:53
Oes Tsetnoc one of the ways in which we can learn seo besides Mengembalikan Jati Diri Bangsa. By participating in the Oes Tsetnoc or Mengembalikan Jati Diri Bangsa we can improve our seo skills. To find more information about Oest Tsetnoc please visit my Oes Tsetnoc pages. And to find more information about Mengembalikan Jati Diri Bangsa please visit my Mengembalikan Jati Diri Bangsa pages. Thank you So much.
Oes Tsetnoc | Semangat Mengembalikan Jati Diri Bangsa
By

Adi, at 22/11/09 19:23
Here's a list of tools you will need to start: Jewelers' pandora jewellery wire cutters - If you can only afford one pair, get memory wire shears. pandora charms These are designed to make clean cuts on tough memory wire, so can also be used for pandora charms uk softer wires. Chain-nose pliers sometimes called cheap pandora charms needle-nose pliers – Very versatile for picking up and grasping small items, pandora charms sale bending eye pins, closing jumps rings, even closing crimp beads. discount pandora charms Round-nose pliers – Used for creating loops on beaded head and eye pins. Can also be used for winding your own jump rings and as the second pliers you'cheap pandora ll need for closing jump rings. Optional pliers – Wire-looping pliers which have several graduated circumferences to allow you to form perfectly uniform jump rings and loops in place of the pandora discount uk round-nose pliers mentioned above. Crimping pliers which have little notches to allow you to both flatten a crimp bead and then bend it to form a rounded finished look instead of the flat crimp you pandora uk get using the chain-nose pliers. As for materials, I recommend some assortment packs of beads in coordinating colors, some decorative metal spacers, seed beads in both silver and gold These can serve as spacers and beautifully set off pandora sale your other beads., tube-shaped crimp beads Buy the best you can find – these are what hold it all together!, head and eye pins. Other than that, let your choice of project be your guide. You might want some silver or pewter charms.
By

每当遇见你, at 7/10/10 23:19